Devil's Food
Welcome to Devil's Food 2.0. The goal is to survive the day with 2 pastel goths. There are 8 endings total. Good luck.
ps. playing in browser can cause errors due to Renpy web being in beta, so i have included the download files below. most errors in Chrome can be fixed by simply clicking ignore. feel free to message @ophanimkei about bugs (and also typos). the game notably has issues running in firefox and on older pcs. I recommend clearing your cache if you are experiencing issues on firefox. If it still fails to load, downloading it or using a Chromium is the best option.

Read Me


Please be aware this is a horror game inspired by 90s choose your path novels. There is blood..

Thank you my dear beta testers:
Stella (https://starbage.neocities.org/)
Zed (https://zeddybear.neocities.org/)
Io (https://denpa.neocities.org/)
Dubuk (https://du-buk.tumblr.com/)
Saifey (https://saifdev.tumblr.com/)

They all have games! You should play them

Credits for Music:
Wutzl (https://freesound.org/people/wutzl/)
Plasterbrain (https://plasterbrain.com/)



Browser Errors

| | |
| --- | --- |
| Issue | Fix |
| Music Not Playing | Clear your cache, especially on firefox. Exit and return to the page. |
| Images are pixelated | This is a browser game issue and quite noticeable on firefox. I recommend clearing your cache and if that does not work, using a Chromium browser or downloading. |
| An Error with the Word Full Traceback | Click ignore and it should run fine. If it doesn't, please let me know. |
| Game Running Slowly | Clear your cache. If you did and it's still running slowly, use a Chromium browser or download the game. Apologies. |
| Another Issue Not Listed | Please dm me on twitter @ophanimkei |
Download
Click download now to get access to the following files:
devilsfood-2.0-mac.zip
128 MB
devilsfood-2.0-pc.zip
162 MB
Comments
Log in with itch.io to leave a comment.
Charlotte is so cute<3
(Charlottes tend to be like that;))

omg i'm so happy you think she's cute! i'm sorry for such a late response! this really made me happy but it just slipped my mind to leave a comment >w<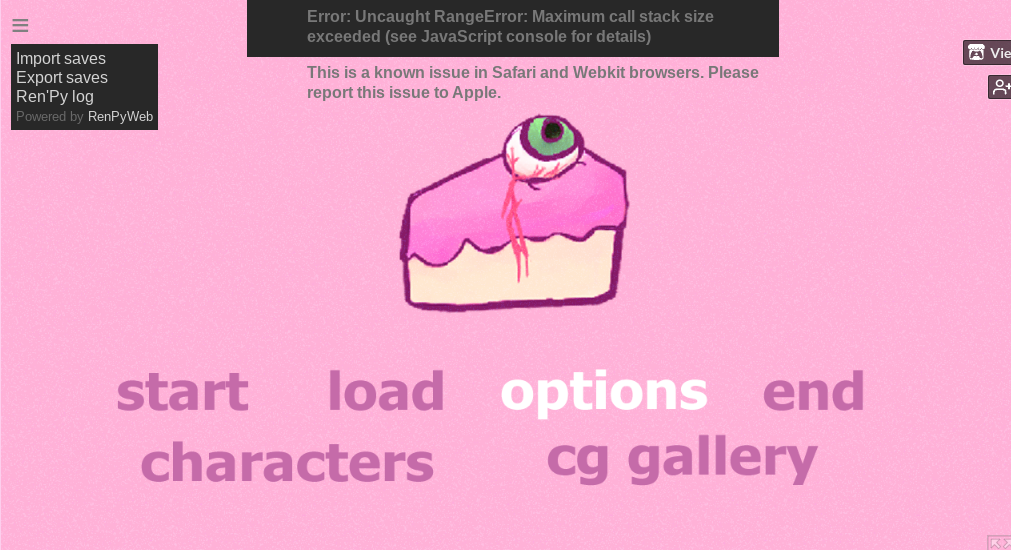 hello! could someone help me with this I'm playing it in my browser and it keeps telling me that there's an error and idk how to fix it can anyone help with that???
thank you very much! :3
very cute and unnerving at the same time. the choose your adventure inspiration definitely shows... unlocking the endings was super fun. (and i appreciate that the CG gallery helps with that!). all in all very nice little game

thank you so much :D !! and yes i was hoping the CG gallery would help players keep track !! i am happy it is effective!
I played this and loved it a lot! I even went back to get every ending, they're all so cool :3c